Bergy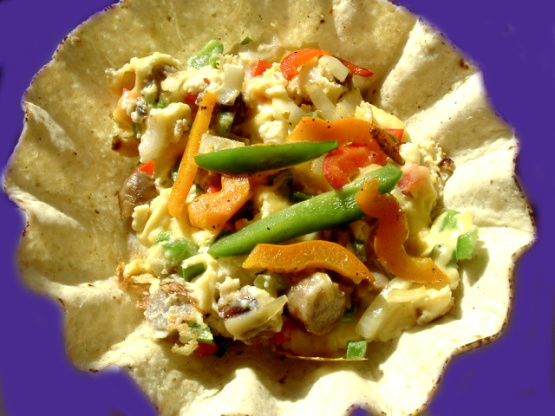 A favorite Tex-Mex breakfast. Serve with sausage or chorizo, refried beans, and warmed corn tortillas, if desired.

Delicious, different way to prepare eggs. This was a snap to prepare and tasted great. Notes: I chose to briefly saute the onions and pepeprs in the butter first for about 1-2 minutes before ading the eggs and also used 4 large plain tortilla chips, crumbled for the crumbled tostadas part- I felt this was the perfect amount.
Melt butter in large skillet.
Add Tabasco into eggs and pour into skillet.
Add onion and green pepper.
Stir.
When eggs are almost set, add cheese.
Turn heat to lowest setting, add tostados and finish cooking.