Ms B.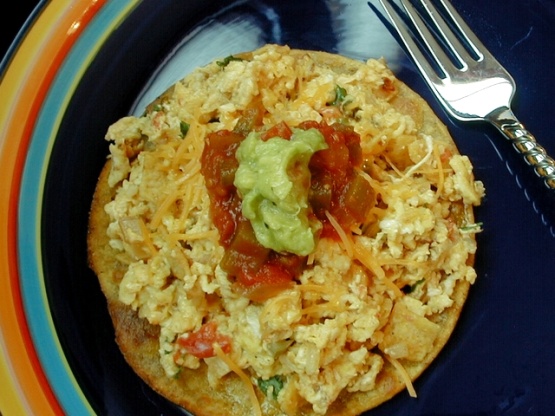 Serve with warm tortillas and flaming hot salsa.

how did I forget to rate this? I tried this recipe shortly after Riff posted it, and it is wonderful. We love it with a dollop of guacamole and salsa, and hot buttered tortillas. And the Fritos are a MUST.....don't try to use other chips....it's just not as good.
Heat a cast iron skillet to high, coat lightly with oil.
Season skirt steak liberally with salt and pepper.
Saute about 2-3 minutes per side until rare - medium rare.
Remove from pan and let rest on a cutting board.
In a nonstick skillet, heat butter and saute onion and garlic until soft.
While cooking onions cut meat very very thinly accross the grain into bite sized pieces.
Add eggs to onion mixture and whisk continuously until almost completely cooked.
Quickly fold in salsa, 3/4 of the cheese, Fritos and cilantro.
Season with salt and pepper.
Once heated through, put on plates, top with remaining cheese and reserved skirt steak.
Serve with hot sauce or additional salsa.