Midwestern German Fries With Sausage Gravy
Annacia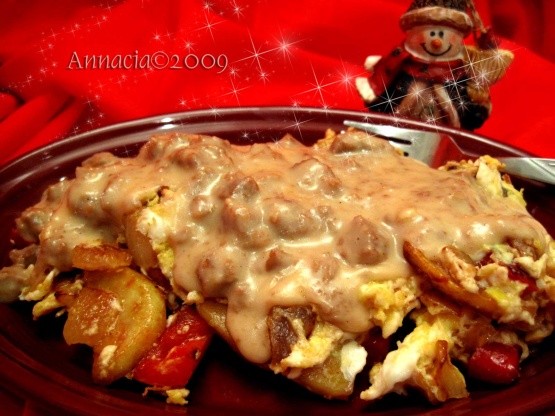 This is a popular breakfast item served in a lot of restaurants in Ohio. It's a mixture of homefries, onion, green peppers and eggs topped off with sausage gravy. I like using either Italian sausage or sage sausage for the gravy. A great way to use leftover baked potatoes. If you don't have any leftover baked potates, you can put the potatoes in the microwave and use the baked potato setting. Let the potatoes cool to the touch then peel (or leave the skin on if you pefer) and slice.

All the comfort of home and really yummy. This is great for and easy and quick fix of those get comfortable and have dinner or breakfast that will warm you from the inside out. I lightened the comfort as much as I could with non-hydrogenated margarine, veggie sausage and skim milk. Still Yum. Made for Crafty Lady's bonus win in Photo Tag.
Slice the potatoes into thin slices. Fry potatoes, onion and green pepper in butter in a large skillet.
Once the potatoes are fried to your liking, add the beaten eggs. Stir mixture and cook until the eggs are done.
While the potato mixture is cooking, brown the pound of sausage in another skillet breaking up the sausage into small chunks.
Once the sausage is completely cooked, mix the milk and flour together until smooth and add to the sausage. Cook over medium-high heat until the sausage gravy thickens.
Serve the sausage gravy over the German Fries.