Midweek Chicken, Spring Onion and Noodle Stir Fry
KMSAGB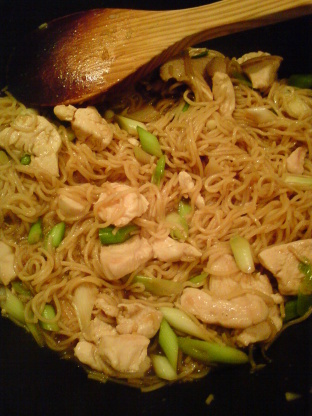 This recipe is originally a broccoli stir fry from BBC Good Food. I've taken out the broccoli and ammended some other ingredients to suit. It's a quick, easy and low-fat recipe that we make more or less once a week!

This recipe is delicious!!! I wouldn't change a thing. At first I was worried that 6 - 10 spring onions might be too much, but I added 6 and it was perfect! I will absolutely be adding this one to my recipe book and making it often from now on.
THANK YOU!
Firstly, cook the noodles as per the directions on the packet, drain and leave to one side.
Warm the oil in the pan and fry the garlic and ginger, stirring for about 30 seconds.
Add the chicken and stir around the pan. Meanwhile prepare the stock and add the soy sauce to the stock, stir and leave to one side. Check the chicken is cooked/brown before moving on.
Add the spring onions and stir briefly.
Then add the stock, stir. Then add the noodles abit a time and mix everything together.
Add a good pinch of black pepper, toss everything together until nice and hot and serve.