Midnight Ham and Cheese Melt
Late night munchies hit and I looked around the kitchen. I found a loaf of foccacia with all the seasonings baked in, yummo. That was the inspiration...
Directions
Butter one slice of foccacia and place butter side down in a hot skillet.
layer 2 slices of smoked ham and top with 2 slices of cheese, lower the heat.
top with pickles and cover the skillet to help melt the cheese.
spread dijon mustard on the top slice of bread and place on top of sammie.
butter the outside of the bread and flip sammie to toast up.
Reviews
Most Helpful
Delicious! I had a potato and chive-flavored focaccia bread, which was very flavorful. First, I sliced the bread horizontally, buttered the interior and toasted them inside-side-down in the skillet. Then I proceeded as directed. Did I say it was delicious? And hearty too! Thanks for sharing your brilliant idea! Made for Fall PAC 2011.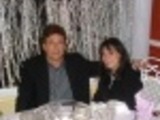 This is an excellent variation on the classic grilled ham and cheese sandwich. Unfortunately, DH brought home plain, Tuscan bread instead of the herbed focaccia, but it was splendid anyway and the right bread could only have improved it. Cooking it without the top slice and under a lid eliminated the perennial problem of having the ham in the center still cold. I'm wondering if bread and butter pickles might have been even better than dill since ham likes a touch of sweetness?