Middle Eastern Vegetable Stew
Parsley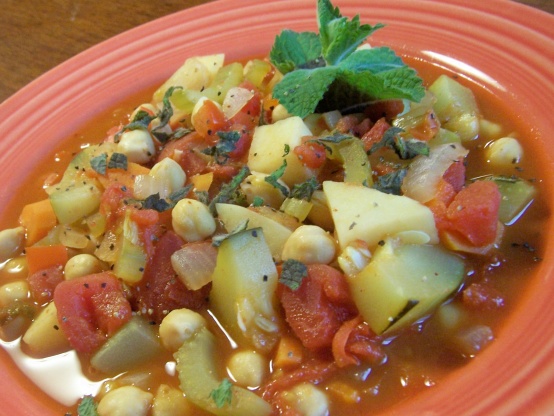 This comes from 1000 Great Recipes. Posting for ZWT3. "This spiced dish of mixed vegetables can be served as a side dish or a vegetarian main course."

I made this for a special event dinner and everyone loved it. I added onions and used fresh chopped tomatoes. I found this recipe easy to make and will make it again. I loved the mint in the soup I added a little extra at the end just to give it a little aroma.
Heat the vegetable stock in a large casserole until boiling, then add the sliced pepper, zucchini, carrot and celery.
Stir over high heat for 2-3 minutes, until the vegetables begin to soften.
Add the potatoes, tomatoes, chili powder, mint and cumin. Add the chick peas and bring to a boil.
Reduce the heat, cover the casserole with a tight-fitting lid and simmer for 30 minutes, or until all the vegetables are tender.
Season to taste with salt and pepper and serve hot, garnished with mint leaves.