Middle Eastern Tahini and Yogurt Appetizer
COOKGIRl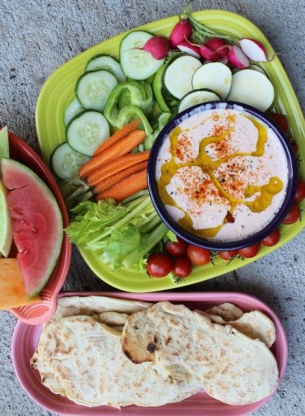 In the Middle East, it has long been believed that, when combined with vegetables, tahini dishes become the ultimate of human edibles. Found in the Toronto Star web site

Used mostly all local ingredients to prepare this recipe. The mixture was pureed in a food processor along with 506 small cherry tomatoes. Served with a platter of fresh vegetables: carrots, bell pepper, raw zucchini, cucumber, the cherry toms, celery with leaves and red radishes. Recipe #17977 to accompany the dish and a plate of fresh seasonal fruit: watermelon, cantaloupe and honeydew. Really delicious especially adding a few of the cherry tomatoes. Reviewed for Veg Tag/September.
Put yogurt, tahini, cilantro, vinegar, garlic, salt, pepper and cayenne in medium bowl and stir with wooden spoon until blended.
Spread mixture on small serving platter.
Decorate with tomato and drizzle with olive oil before serving with assorted veggies and/or pita bread.