Middle Eastern-Style Lamb Shanks
Favoo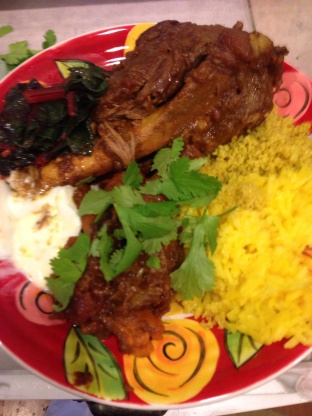 I love lamb shanks any old how. This is especially nice.

Top Review by ImPat
Oh definately reduce that sauce no argument there. I had 3 lamb shanks that weighed just uinder 2K so allowed a little extra time to cook and they were fall of the bone delicious with the sauce smothered over them. I kepted them warm in the oven (50C) in a covered dish with a couple of big dollops of the sauce to keep moist while I reduced the sauce (took about 8 minutes and served with recipe #54006 by Izzy Knight made for a very nice meal with recipe #258574 by Nyteglori made into a herbal bread, Jans recipe was made for Make My Recipe - Edition 14. UPDATED 4th February to correct spelling mistakes.
Heat the oil in a large, heavy-based saucepan over medium-high heat. Add the shanks and cook, turning for 5 minutes or until brown. Remove to a plate.
Add the onion and garlic, and cook gently for about 5 minutes or until soft.
Add the spices and cook, stirring, for about 30 seconds.
Return the lamb shanks to the saucepan with the tomatoes and stock, and bring to the boil.
Reduce the heat to a medium-low simmer and cook for one hour covered.
Uncover and cook a further 30 minutes or until the lamb is tender.
Remove the lamb and keep warm, increase the heat under the saucepan to high and bring the stock mixture to the boil.
Boil, uncovered, for 10 to 15 minutes or until the sauce thickens (it WILL happen and is much nicer than a flour thickened sauce!).
Sprinkle with fresh coriander leaves and serve with yogurt on the side.