Middle Eastern Lentil & Kofta Bowl by Sy
Susie D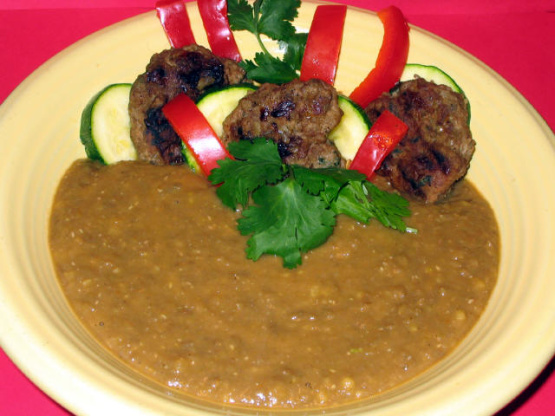 This is a delicious Middle Eastern Soup Bowl enjoyed by many cultures in the region. Besides its appetizing visual appeal, adding the various accompaniments makes this dish extra tasty!

This is a very tasty and colorful recipe. I made a few changes because I prefer a lot of broth, therefore, only used 1/2 cup of lentils. The Samneh seasoning is wonderful, I used lemon zest and added a 1/4 teaspoon of cayenne pepper. I did not use the additional cumin to the Koftas. I took about 1/4 cup of seasoned stock and added it to the Koftas (used chicken) mixture with the coriander and made little meatballs. I substituted green onion for the chopped onion in the Koftas mixture. This was such a colorful presentation with the thinly sliced zucchini and red peppers. I like your idea to use the microwave for this. I also drizzled some additional extra virgin olive oil over the top of each serving. Served it with warm toasted pita bread and lemon wedges. Thank you for sharing this wonderful recipe. My guests ate everything, no leftovers!
6

cups of heated chicken stock (other stocks optional)
1 1⁄4 cups lentils (yellow peas)

1

celery rib, chopped up (optional)

1

small onion, chopped up
1 1⁄2 teaspoons tomato paste (tube, can or jar)

1

small green zucchini, cut into thin 12 slices

1

small red pepper, chopped up

1 -2

tablespoon butter

Samneh Seasoning

2 -3

garlic cloves, chopped up
1⁄2 lemon, juice of

1 -2

teaspoon lemon zest (optional, 8 small slivers from the outside of a lemon)

1

tablespoon olive oil

1

teaspoon ground cumin
1⁄2 inch ginger, chopped up (optional)

Koftas

1

lb ground turkey (turkey #1 choice) or 1 lb ground chicken (turkey #1 choice)

1

teaspoon ground cumin

1

teaspoon ground coriander

1

teaspoon black pepper (cayenne optional)

1

small onion, chopped up
oil (for frying)
Mix the kofta ingredients and set aside.
Put stock in a pot (non-stick Teflon) and after heated add; peas (lentils), celery, onion, tomato paste and let simmer for about 30+ minutes, with the cover on.
Stirring occasionally.
When the lentils are three quarters done, reserve about 1/2 cup for later use.
Remove pot from stove and puree the soup, then back on the stove.
After the soup is reduced somewhat, add; Semneh Seasonings and puree again.
Let soup simmer for about 15 minutes, stir often (and make sure nothing sticks to the bottom of the pot).
When you have a real thick soup add the 1/2 cup reserved lentils and cook for one minutes more.
The soup should be thick which will allow the koftas, zucchini and red peppers to float on top when added.
While the soup is cooking, make the koftas.
Form about 12-16 small flat kofta patties and fry with a little oil (or grilled).
Make sure that the ground poultry is thoroughly cooked, flatten them with a spatula.
Put the zucchini and chopped red pepper into a big bowl, add the butter and then into the microwave for about 1 minutes.
Do not over cook!
Add the thick lentil soup to each bowl.
Make a nice looking design around the bowl by placing 2- koftas, 3 slices of zucchini and garnish with red peppers.
Enjoy, with pita bread and accompanied with hot chili sauce, yogurt sauce, mint sauce, sour cream, sour pickles/vegetables, lemon wedges on the side.