Middle Eastern Lamb and Spinach Soup
Syrinx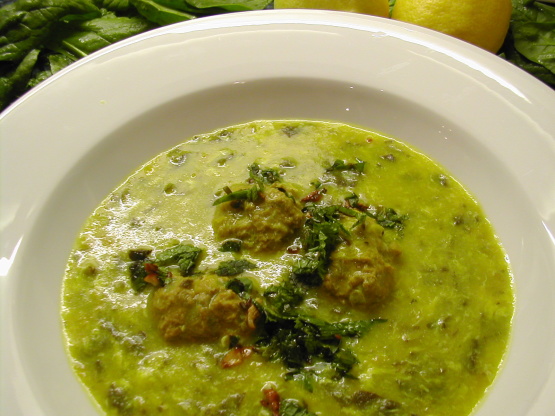 Versions of this are cooked in many parts of the Mediterranean area--Greece, West Asia and North Africa. Before juicing, I microwave the lemons about 20 seconds to increase the amount of juice. If you prefer, oregano can be substituted for the mint.

Top Review by Syrinx
A very interesting soup, which was very soothing on a grey autumn evening. It wasn't the easiest of soups to make, though. This isn't a dish you can ignore while it cooks - you have to be around to do things to it at regular intervals. I found that I had to add more water because the soup got very thick and gloopy - and after the rice flour mixture went in, I had to stir frequently because the soup stuck to the pan. In future, I would season the meatball mixture as well as the soup itself, since the meatballs seemed a little bland. But apart from these minor quibbles with the method, the end-result is very good - healthy, tasty and well worth the effort. I'll make it again.
In a large pan, saute the chopped onion in 2 Tbs oil until golden.
Add the turmeric, split peas and 5 cups water; bring to a boil and simmer 20 minutes.
Combine the lamb and grated onion. Shape into walnut-sized balls with your hands.
Add meatballs to the pan and simmer 10 minutes.
Add the spinach, cover and simmer 20 more minutes.
Mix rice flour with 1 cup cold water to make a smooth paste. Slowly add the paste to the pan, stirring constantly.
Add the lemon juice, salt and pepper and cook over low heat 20 minutes.
Meanwhile, saute the garlic in 1 Tbsp oil in a small skillet until golden. Stir in mint and remove from heat.
Remove the soup from the heat and stir a little bit into the beaten eggs, then stir the eggs back into the soup.
Sprinkle the garlic and mint over the top of soup before serving. Serve hot.