Middle-Eastern Herb Omelette
Alskann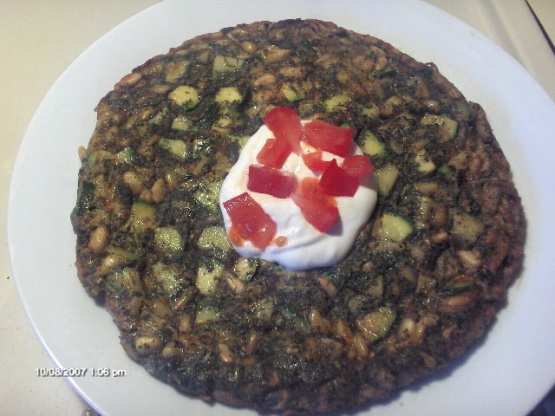 This is from "Herbs and Spices the Cook's Reference" by Jill Norman. This substantial omelette, something like a Spanish tortilla, is called a kookoo in Iran and eggah in the Arab countries. A tablespoon of barberries can be added to the filling. The omelette can be baked or cooked on top of the stove.

Delicious. I used everything but the optional zucchini as I didn't have any. I think I would prefer it without the walnuts and saffron so that is how I shall make it next time insha Allah. The only change I made was added some dried chives rather than fresh as they were all I had. I served it with Balkan (thick) yogurt which was surprisingly a very good accompaniment. Made for NA*ME Tag! Come play!!
5

ounces fresh flat-leaf parsley, leaves chopped

5

ounces fresh dill, leaves chopped

2

ounces fresh cilantro, leaves chopped

1

bunch fresh chives, chopped

3 -4

lettuce leaves, chopped

3 -4

spinach leaves, chopped

2

small zucchini, chopped (optional)

4

scallions, chopped (green onions)
1⁄4 cup walnuts, chopped

1

pinch saffron thread

6

eggs, beaten
salt & freshly ground black pepper, to taste

2

tablespoons butter
thick yogurt, to serve
If you intend to bake the omelette, heat the oven to 350F (180C).
Discard the coarse stems from the parsley, dill, and cilantro, and chop these herbs with the chives, lettuce and spinach.
Combine with zucchini, scallions and walnuts.
Crush the saffron in a small mortar and stir in 2 tsp warm water.
Beat the eggs well, add the saffron liquid, salt and pepper. Stir into the herb mixture.
To bake the omelette:.
Butter a shallow baking dish, pour in the mixture, and bake for 45-50 minutes, until the omelette has a golden-brown crust.
To cook omelette on the stove-top:.
Heat butter in a frying pan, coating it well on the bottom and sides, pour in the mixture, and cook over low heat for about 25 minutes.
Turn the omelettte by reversing it onto a plate held over the pan, and cook the other side for 10-15 minutes.
Serve hot or at room temperature, cut in wedges, with a bowl of thick yogurt.