Middle Eastern Green Beans and Tomatoes
Prep 35 mins
Cook 20 mins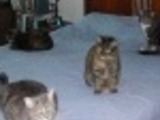 Green beans and tomatoes are a terrific combination which I found out when my BF and I ordered this dish at a middle eastern restaurant a few years ago. It can be found in Italian cuisine as well but I prefer the middle eastern (Lebanese) variety. This is a meatless version which I adapted from a recipe off the internet and like to serve over rice or couscous, making a light meal or more substantial side dish. The idea is to cook until the beans are in between soft and crisp so they have a nice consistency that goes well with the tomatoes. If you have no problem with inauthenticity, sprinkle with parmesan cheese too and you'll get the best of both worlds.
Directions
Begin cooking rice.
Meanwhile, heat olive oil over medium heat and saute onions about 5 minutes.
Add green beans and saute about 8-10 minutes.
Add garlic and saute 1 minute.
Add tomatoes, salt, pepper, allspice and sugar and bring to boil. At this point if you feel the mixture is too dry you can add up to 1/4 cup of water.
Cover and cook 15-20 minutes.
Serve over warm rice with parsley sprinkled on top if desired.
Most Helpful
This was a terrific side dish and I didn't even add in the allspice.
Very good for DD1 (4 years old) and I but I did use recipe#79179 instead of allspice which is a common substitution I make, I also used a larger quantity. I omitted the sugar to be healthier and used frozen green beans and a bit of extra garlic. I did not add the pepper as there was already a significant amount in the spice mix and I added sea salt, to taste, not measure. I did not think the parsley would go well with this so I didn't use that option. Like others I had to add the additional water but that may be because I used drained canned tomatoes rather than fresh ones. I served this over rice as a main vegetarian dish. I would make this again for myself but not DH as he doesn't like green beans.

This was easy enough to put together and I really liked the flavors. Only thing I would do next time is not serve it over rice as recommended. I liked it better just as a nice green bean side dish. Made for ZWT6