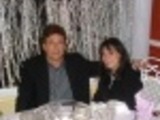 This is traditionally called hummus, and I can't get enough of it. You can serve this with pita bread triangles (I use Spicy Whole Wheat Pita Chips), but I actually like to use raw celery and carrot sticks.
Directions
Combine all the ingredients in a food processor. Process until the mixture is smooth ad creamy and no lumps remain, scraping down the sides of the bowl as needed. Serve immediately or cover and refrigerate until ready to use.
Most Helpful
1...2...3...4...5... whewww, dh just came up for air! Quite obviously loved.