Middle Eastern Chicken Kebabs in Honey-Soy Marinade
Bellinda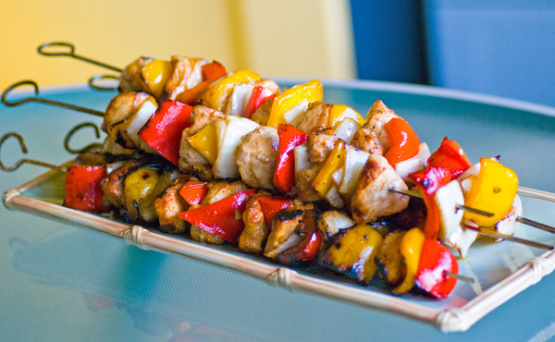 The delicious honey-soy marinade with the garlic makes them special. You could try adding cherry tomatoes or mushrooms. Or use shrimps instead and add pineapple. If you don't grill them too hot you can put the veggies and meat on the same skewers without burning the veggies.
In a bowl mix oil, honey, soy sauce, cumin, cayenne and pepper. Set a small amount of the marinade aside for basting later on. Then add the meat, veggies and garlic and let them marinate in the fridge for at least 2 hours. The longer the better.
Discard the marinade and put meat and veggies onto skewers. If you use wooden ones, first soak them in lemon water to prevent burning.
Grill on the BBQ for 12-15 minutes or until done. Keepturning and basting with the marinade you set aside earlier.