Microwaved Scalloped Potatoes and Carrots
Sageca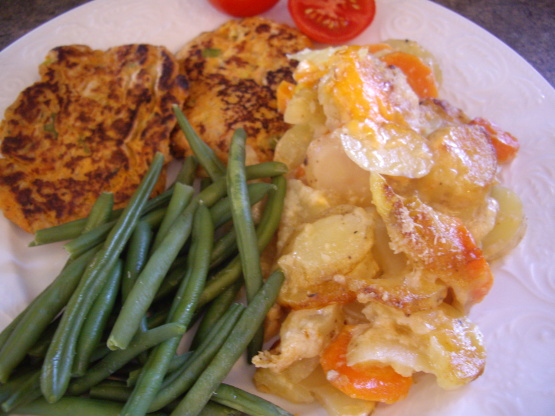 A good one to make in summer when you don't want to use the oven but still feel like some hot vegetables.

Since my oven is broken at the moment, I decided to give this dish a try. I wouldn't say I ended up with "scalloped" potatoes, but rather cooked potatoes, carrots, and onions with melted cheese on top and not really a "sauce". I think I would have gotten better results with the same ingredients if I used a skillet. Oh and you definitely have to put this dish in the broiler to melt the cheese.
In an 8-cup casserole dish place the butter and onion.
Microwave on High for 2-3 minutes, stirring once.
Add potato and carrot slices and stir to mix.
Sprinkle over the flour.
Microwave on high for 4 minutes, stirring once.
Add milk and continue to cook on Medium/High for 6-8 minutes, or until the vegetables are tender.
Sprinkle with cheese and cook for 2-4 mins, or until cheese melts.
Place under a hot grill (broil) until top is brown and bubbly. (I sometimes don't do this).
Note: You can stir in some chopped parsley if you like when you add the milk.