diner524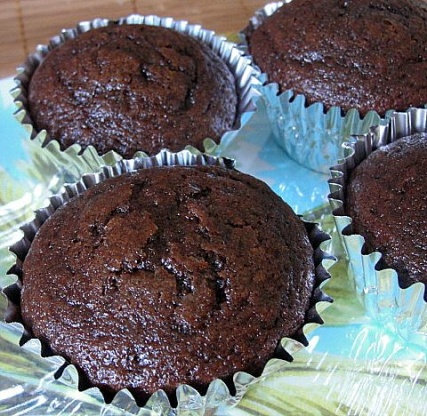 Taken from Fabulous Desserts. Cooking time is for 6-7 muffins. If you are making more or less at one time, adjust cooking time.
I made these for me and my 17 yo DS this morning. I had to change the method, as I think my DD took my silicone muffin pan to her apartment or it is misplaced, so only had metal pans and had to cook them in the oven. My DS didn't care for the raisins and chocolate combination and stated it was not very chocolately tasting. The texture was nice and not dense when cooked in the oven. I liked that it wasn't real sweet tasting!!! Would like to try this again and leave out the raisins, up the cocoa or add some coffee and try it in the microwave once I figure out what happened to my pan. Thanks for sharing your recipe Sam!!! Made for PRMR!!
Combine flour, sugar, cocoa, baking powder and salt in a med bowl.
Add milk, oil, egg stir just until moistened.
Fold in raisins and nuts.
Fill 6-7 muffin papers 1/2 full.
Place cups in microwave-proof cupcake or muffin tin.
Microwave on high for 2-2 1/2 minutes.
Repeat process with remaining batter.