Microwaved Apples With Orange and Strawberry Sauce
BarbryT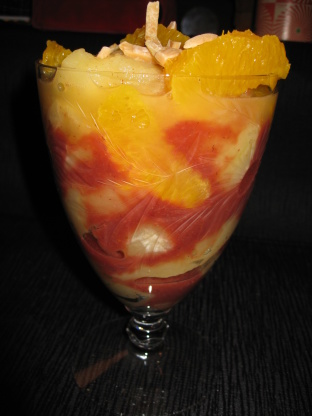 Another quick and easy recipe – how useful they are! – I'm adding in the eleventh hour before the 2005 Let's Get Fresh and SWAP - Recipe Swap because I couldn't find anything like it on ZAAR. This is my adaptation of one of Huey's recipes. Iain Hewitson is an Australian cook, better known as Huey, who runs Tolarno's restaurant in Melbourne and hosts a popular TV cooking show. He is also the author of several cooking books. If serving for breakfast or brunch, you may want to omit the Cointreau.

The recipe doesn't say when to add the cointreau or orange slices, so I wrote to bluemoon and asked her about it. She suggested that the orange sections be tossed without microwaving to the already cooked apples and that the cointreau be added to the sauce just before pouring it over the fruit. This is what I did and this came out very yummy, especially since cointreau is one of my favorite liqueurs. How great that a terrific dessert like this is so low-calorie! Thanks for sharing, bluemoon!
Place the apples in a microwave container, sprinkle with cinnamon and pour the orange juice over the top.
Cover and cook on high in the microwave for 3 minutes, toss and then cook for another 3-4 minutes, or until tender.
At the same time, puree the strawberries and add 1 teaspoon sugar, or to taste.
Then drain the juice from the apples into a saucepan together with the strawberry puree and cook over a high heat to reduce.
Place the apples in a bowl and pour the sauce over the top.
Garnish with almonds and serve warm or hot.