Microwave Version of Twice Baked Potatoes With Cheese and Bacon
Boomette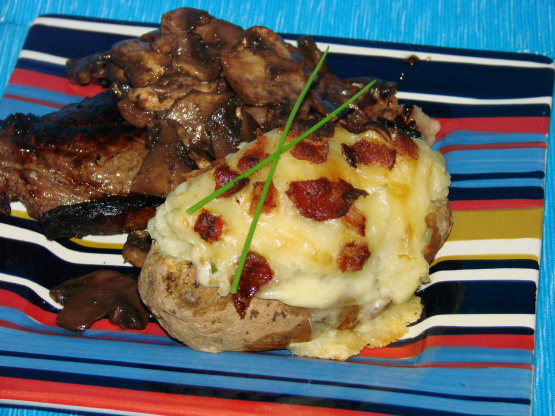 i made twice baked potatoes and added stuff.
There is probably an error in the ingredients. 4 1/8 cups of milk is way too much for only 4 potatoes. I used less than 1/2 cup of milk. I didn't measure. I used butter. I added fresh chives to the mashed potatoes. The potatoes didn't have a lot of flavor. It would be great to add a little bit of cheese and bacon in the mashed potatoes. Or maybe some seasonning. After heating them in the microwave for 5 minutes, I put them under the broil to browned the cheese a little bit. Thanks for posting. Made for Bargain Basement tag game
poke holes in the potatoes
put in microwave for 10 minutes, turn over half way.
let cool for 10 minutes.
take the inside of potatoes out of the potatoes.
put the inside of potatoes in a bowl.
then add the butter, and milk.
then put the stuff in the bowl in the potatoes outsides.
add the cheese and bacon bits (cook for 5 or so minutes) on top.
put the potatoes in the microwave for about 5 minutes.