Microwave Treats in Seconds
Kathy228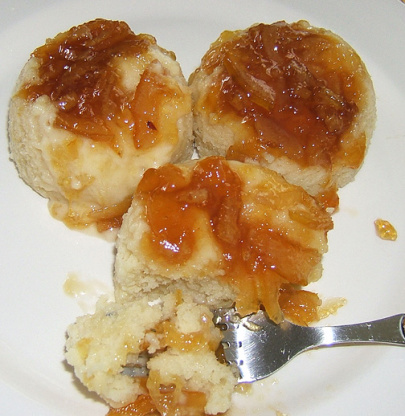 These are simple ,quick, easy, yummy and very popular

These are adorable treats and so easy a child could make them. I didn't have berry jam, so I used lemon marmalade which worked quite well. The cake was spongey and not overly sweet. The cooking time was pretty much correct for my microwave; for cooking them all at once. I forgot to grease the cups (I used coffee mugs), but it didn't matter, they came right out, onto the serving dish. I LOVE this recipe.
Grease 4 straight sided microwavable cups, put 1 tbsp jam in base of each cup. in small bowl melt butter. Add sugar and egg to a bowl with the melted butter. sift in the flour and baking powder mix well adding with the 1/2 cup milk.
put mixture evenly in mugs, (it shouldn't come to the top of the mug, as it rises when cooked). Microwave for 3-4 1/2 minutes. Run knife round the edge of cups.
Tip into a serving bowl, leave to stand for one minute then, voila, bon appetitte.