Microwave Steamed New Potatoes & Brussels Sprouts
Annacia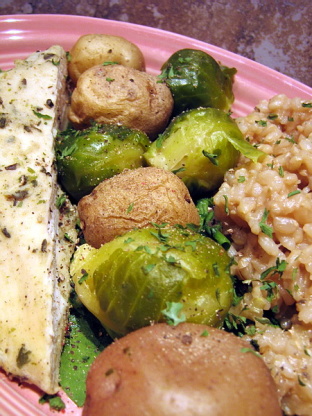 Yet another Brussels Sprouts Recipe

I really love this quick and healthy recipe. It isn't cluttered with high fat sauce or butter and it used 2 of my preferred veggies. I had leftover onion rice and chicken, with the help of this pairing it became a lovely dinner. I used 4 frozen sprouts and 4 baby new potatoes. As I made a single serving I first gave them 3 mins and the second time in the oven was 4 mins. This turned out perfectly, they were both tender and nicely cooked without being mushy or dried up and shriveled.
Combine potatoes, brussels sprouts and broth in 2 quart microwave safe casserole. Cover tightly with lid or plastic wrap turned back slightly on one side.
Microwave on high 4 minutes. Stir. Cover again. Microwave on high 3-6 minutes or until vegetables are tender.
Let them stand, covered, 5 minutes. To serve, sprinkle vegetables with pepper, parsley and chives.