Syrinx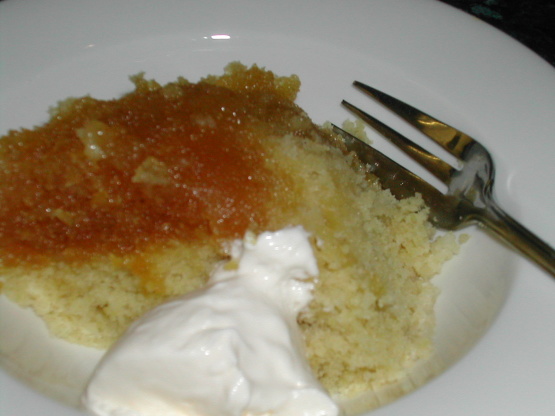 Delicious quick sponge pud!

I used honey instead of syrup and a 20x20cm greased and papered pan. I found it ... dense, not fluffy at all. Very eggy, and with a pervading aftertaste of baking powder. However, for a mcirowave cake it's alright - what I liked is that it rasied itself away form the edges of the pan, making it very easy to take out. I made two, then layered and topped them with strawberry-banana cream cheese icing. It was OK. Sorry! <3, the NOOBchef.
Grease 1.5 litre heatproof bowl with a small amount of butter. Spoon the syrup into the basin.
Cream the remaining butter with the sugar until light and fluffy. Gradually add the eggs, beating well between each addition.
Sift the flour and baking powder together, then fold into the creamed mixture using a large metal spoon. Add enough warm water to give a soft, dropping consistency. spoon into the bowl and level.
Cover with microwave-safe plastic wrap, leaving a small gap to allow air to escape. Microwave on high power for 4 minutes, then remove and let stand for 5 minutes, while it continues to cook.
Turn the sponge out on to a warm serving plate. Serve with custard.