Redsie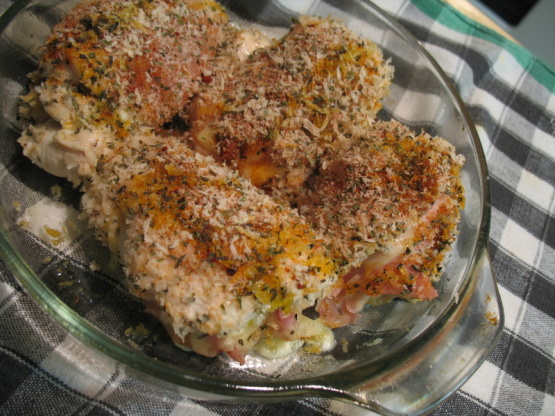 I have to admit I was skeptical about this recipe, but it actually pretty good! I used honey ham for mine but any cooked thinly sliced ham will do! dry breadcrumbs only for this.

Top Review by JGB18
The recipe was easy and quick to prepare. I thought it was a pretty credible home-made chicken cordon bleau, but the rest of the family was only so-so on the taste. They ate it, but gave it an average rating of only 3.25 ("liked"). I halved the recipe, which seemed to work fine. I cut the chicken open after 10 minutes and it was not cooked in the middle. So, I cooked it for an additional minute to finish. This may have been a little too much, as the chicken was a little dry.
Butter/grease a microwave-safe baking dish (large enough to hold 4 rolled chicken breasts).
Season the inside of the chicken breast with salt and black pepper, then place 1 slice of Swiss cheese and 1 slice ham on top of each pounded chicken breast.
Roll up as tightly as possible and secure with toothpicks (if necessary).
In a small bowl combine the Parmesan cheese, paprika, garlic powder, tarragon, basil and dry breadcrumbs.
Roll/coat the rolled chicken breast into the spice/breadcrumb mixture to coat on all sides.
Place into a baking dish, then drizzle with melted butter.
Cook on HIGH for about 10 minutes or until the chicken is cooked through and the juices run clear.