katew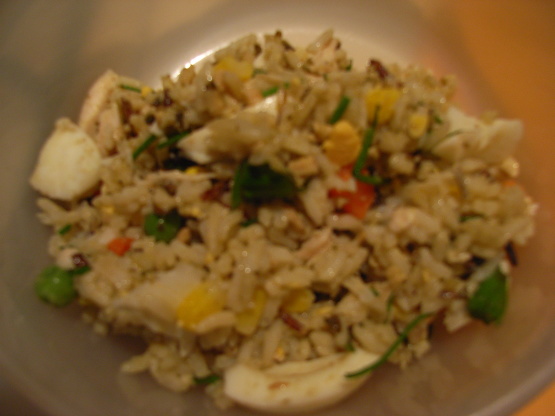 I am a bit nervous about posting this recipe. I suppose its because I have changed it so much over the years, to suit the family, and its in my head now for so long and not on paper to copy out! When I first got married and my parents gave us a microwave for a wedding present.......so mum and I went to classes to learn how to use a microwave. This was the first recipe we made, and I have made it ever since, with many changes over the years to suit kids and relations! It is such a versatile recipe, the basics are there and you just add what you like! Because I make this out of my head (apart from the basics) I am using what I add as ingredients, and if the ingredients need cooking, I just nuke em for a few minutes...such as th onion and peas.Saffron is good to get a yellow colour to the salad. I have served this rice both hot and cold, and it has never failed. One thing I never leave out is the onion and eggs., but its all up to you! ;-) I hope you can understand this recipe, its hard when you have been making something for years and try to put it down pat!
Basic ingredients

236.59

ml rice

473.18

ml water

1-2

chicken stock cube (I prefer one because of allergies)

14.79

ml butter

Added ingredients I use

236.59

ml peas, cooked

1

onion, diced cooked

2

hard-boiled eggs, and diced

236.59

ml diced ham

2

spring onions, diced

236.59

ml pre cooked chicken, diced

236.59

ml corn, tinned is fine
salt and pepper
Rinse uncooked rice off in strainer unser cold water, until water runs clear.
I actually put rice in a jug of water let sit a few minutes stir and then strain off.
In a microwave safe bowl add crumbled stock cube, rice and butter.
Microwave rice for 3 minutes, remove and stir so as stock cube and butter dissolves, and mixes inches.
Place bowl with a cover in microwave for 8 minutes on high, when finished remove and leave rice stand (untouched) for 10 minutes. The rice should be perfectly cooked after standing.
Now add extra ingredients, and seasoning's and serve cold or hot ~
Frozen peas and onions can be microwaved for a few minutes if adding.
Other ingredients I have added or substituted are (drained no added water to the mix). I always use onions to the mix and usually boiled eggs diced.
Pineapple.
Cooked chicken.
Tuna
Capsicum (diced).
Shallots (diced finely).
Carrots (diced).
Beans (diced).
Small cooked prawns (diced).
Saffron (1/4 teaspoon) for colour (makes salad yellow in colour) The list is endless as to what you can use, just make sure the ingredients dont carry too much water to make rice gluggy!