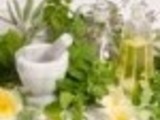 Foolproof and easy to prepare. Dish can be made ahead and reheated before serving. You can freeze the leftovers; it works! Feel free to add other herbs of your choice; when fresh herbs are around I am very generous and produce all kind of taste senstions.
Directions
In a 2 qt casserole dish, combine butter, rice, onions, celery and garlic.
Microwave 5 minutes on High.
Add chicken broth, thyme and parsley.
Cover and cook 15 minutes stirring twice during cooking time.
Let stand 10 minutes to finish cooking before serving.
Serves 6.
Tips:.
Use fresh herbs for best results.
Most Helpful
This was delicious, and so easy! I used brown rice and simply increased the liquid by 1/2 cup and the cooking time by 15 minutes. It worked great and we thoroughly enjoyed it. Thanks for posting!
what a great idea + I added cut-up cooked chicken and it was really a success.
I have made this twice now, once per the original recipe and then with a Mexican flare. Both were great and I'm glad that I can now cook rice in my microwave! Thanks.