Microwave Popcorn Marshmallow Balls
lazyme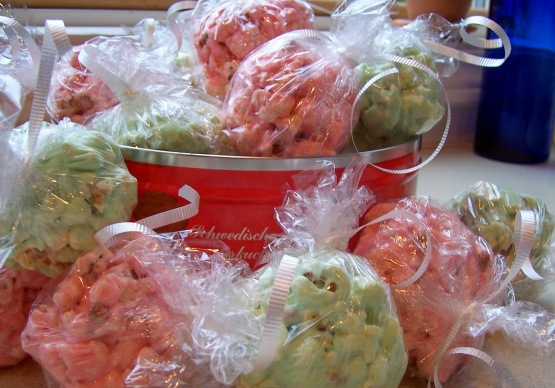 A twist on the old rice krispie treats...with POPCORN!! Easy and delicious. I like to wrap in colored plastic wrap to match the season or occasion!

I made these for Christmas and thinking measurements wrong. I put in 6 quarts popped corn and with 20 ounces of marshmallows (i only had large mallows 10 once package) it's way too gooey won't hold shape. Wont come off hand sb no how much butter on them, i won't use your recipe again thank you but no thanks
3

quarts popcorn, popped

1

(20 ounce) bag marshmallows
food coloring (optional)
Put the popped popcorn in a large bowl or pan; set aside.
In large microwave-safe bowl, microwave butter on high until butter is melted, about 30-45 seconds.
Add marshmallows.
Microwave on high until marshmallows look puffy, about 1 to 1-1/2 minutes.
Stir to completely melt marshmallows. Add food coloring if using.
Now pour melted marshmallows over the popcorn and mix carefully until the popcorn is coated.
Butter your hands to protect them from the heat and shape into balls.
Wrap each ball in plastic wrap until ready to eat!