ImPat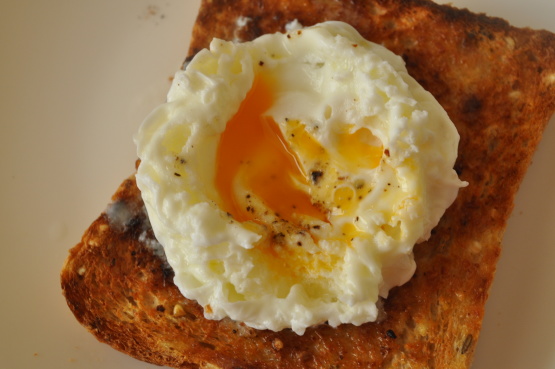 My DH used to make himself poached eggs using this method all the time. This recipe was found in Chatelaine Food Express Quickies. The cooking time includes the standing time. Note: After reading Lorrie in Montreal's review, I've added poking the egg to prevent messy explosions to the procedure :)

Top Review by ImPat
Made for a quick and easy breakfast. I have a 900W oven and set for the 45 seconds but at 38 it started to spit so I stopped and removed, I would prefer a little less cooked so next time I will set it for 30 seconds and maybe do another 5 if needed. I used the water and did not use the optional parmesan. Thank you Dreamer in Ontario, made for Every Day A Holiday.
Heat the water or butter in a custard cup.
Add the egg, poke it to prevent it from exploding, and sprinkle with salt, pepper and optional Parmesan.
Cover and microwave on medium for 45 to 75 seconds.
Let stand, with cover on, for 1 minute.