Microwave Poached Egg on Toast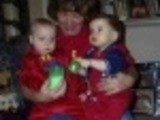 This recipe came with my very first microwave 20+ years ago. It makes an easy, quick, no mess breakfast.
Directions
Place the toast on a plate, butter it, flatten the middle down with the back of a fork.
Crack and carefully pour the egg into the flattened middle of the toast, not allowing it to spill over into the plate.
Prick the yolk quickly and carefully with the tines of the fork and bake in the microwave on a turntable for about 1 minute on 60-70% power, until the white is cooked through or desired doneness is achieved.
Most Helpful
Writing this down so I don't forget.......1 min 10 sec on 70% power.....nothing like having CRS....LOL....Came out perfect. I rarely eat breakfast, and I should....this was fast and little mess. Thank you so much for a great recipe!
I wanted to love this - I eat poached eggs a couple of times a week and would have loved having a short-cut. While the egg is almost cooked perfectly (every microwave and egg is different, you have to fiddle a little with the time to get it to your liking, which makes perfect sense to me), the bread got kind of soggy and chewy. I tried a couple of different whole grain breads, with the same results.
My class and I laughed out loud reading the comments and looking at the photo's..... thank you for the entertainment. This is, just egg in a Microwave!!!!<br/>Cooked it with my cookery class and they all felt that the toast was an issue, but the egg was lovely. We are now off to look for more ridiculous recipes.....