Calee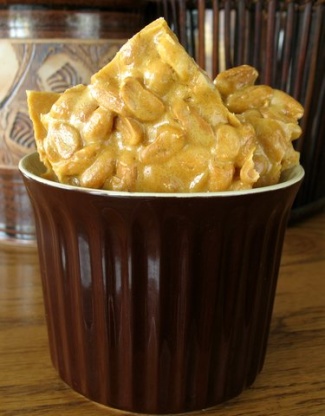 This puts store bought peanut brittle to shame. I prefer to use the skinless peanuts because I think the skins are bitter. The amount listed below for the peanuts is if you're using Virginia peanuts. If you're using Spanish peanuts then reduce the amount of peanuts to 1 1/2 cups. Be sure to watch the candy carefully the first time you make it.

Top Review by Calee
Very good peanut brittle. I loved the brown sugar in this recipe. I micro'd for 2 minutes then stirred and then 3 minutes after that, stirring every minute, it turned out well. I had to spread fast before it set up. Thanks for sharing this recipe. Made for PAC 08
Combine peanuts, sugar, corn syrup, and brown sugar in a large microwave safe bowl. Mixture will be quite gummy.
Microwave on high power for 2 minutes and then stir.
Continue microwaving the peanut brittle a couple minutes at a time until the peanuts are a nice roasted brown color. Be sure you're looking at the peanuts themselves and not the syrup surrounding them. The time this takes will vary according to your microwave. When the syrup starts to get really hot you may want to check every minute or less to prevent it from burning.
After the peanuts are cooked quickly stir in the butter, vanilla, and baking soda.
Pour the candy out on to a sheet of aluminum foil and spread it as thin as you can get it.
Let the candy cool completely before breaking it into pieces.