A quick & easy recipe for one of my favorite Mexican candies. It tastes almost as good as the kind that is boiled.
Directions
Butter an 8 x 8 square dish and set aside.
Place pecans on a baking sheet in a single layer and toast in oven on 350 degrees for about 2 minutes, just until they start to brown slightly.
Set pecans aside.
Put the butter in a microwave safe bowl and heat for 1 minute or until melted.
Stir in brown sugar and condensed milk.
Return to microwave and cook on high for 7 0r 8 minutes, stopping every 2 minutes to stir the mixture with a wooden spoon.
When 7 0r 8 minutes cooking time is up, take the mixture out on the microwave and beat with a wooden spoon until the mixture starts to thicken and lose it's glossy appearance.
Add vanilla and pecans to mixture and stir.
Pour mixture into the greased dish and allow to cool completely.
Slice into 1" squares and serve.
*Note - You can leave the pecans out completely or not put them into the candy mixture and instead add toasted pecan halves to the top of each square of candy before it cools.
Reviews
Most Helpful
I have been looking for a Leche Quemada recipe for about 20 years now (like they make at Mi Tierra's in El Mercado (San Antonio) - and after trying this one, unfortunately I'm still looking. The taste and texture is wrong. It's tacky rather than sugary. This candy is shouldn't be quite the creamy texture of fudge, but drier, grainer and it shouldn't be sticky or tacky either like this is and leche quemada is much sweeter, too.
In our home this is called "Bob's Brown Sugar Fudge", I found the recipe in a Christmas magazine about 11 years ago and I tried it for my DH who can't have caffine, so no chocolate :-( which makes him feel deprived at times. It is really great (the few pieces I'm allowed) and really easy. The only problem I've had is when our old microwave died and we got a new more powerful (700 wats to 1200 wats)I burned the nuts a few times. This is now an annual must have.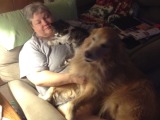 This stuff is awesome!! I could eat the whole pan myself. Thanks for sharing.