Microwave Green Beans Almondine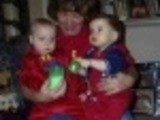 Excellent microwave recipe - keeps the kitchen cool. Uses fresh green beans!
Make and share this Microwave Green Beans Almondine recipe from Food.com.
Directions
Wash and break the beans into 1 1/2 inch pieces into a 2 quart casserole dish.
Stir the hot water and salt until salt disolves.
Stir the water into the beans, cover and microwave on high 12-17 minutes, until tender crisp, stirring once halfway through.
Let stand 2-3 minutes, then drain.
Mix all the other ingredients into the beans, stirring until the margarine melts.
Heat on high in microwave till heated through (about 1- 1 1/2 minutes).