Microwave Green Beans Almondine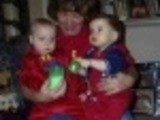 Excellent microwave recipe - keeps the kitchen cool. Uses fresh green beans!
Directions
Wash and break the beans into 1 1/2 inch pieces into a 2 quart casserole dish.
Stir the hot water and salt until salt disolves.
Stir the water into the beans, cover and microwave on high 12-17 minutes, until tender crisp, stirring once halfway through.
Let stand 2-3 minutes, then drain.
Mix all the other ingredients into the beans, stirring until the margarine melts.
Heat on high in microwave till heated through (about 1- 1 1/2 minutes).
Most Helpful
This was quite good although I prefer boiling the green beans, draining them, then sauteeing them lightly in the butter and adding the almonds. Liked the hint of nutmeg in this recipe. I will use these ingredients again to make it my way. Thanks, Trisha.

Loved this recipe as I didn't need to use up more of my stove-top. The beans cooked perfectly in the time stated. I used butter in the dressing - a simply great complement to the beans! I also really enjoyed the slight nutmeg flavour. Toast the almonds first for added flavour.