Microwave Green Bean With Almonds
ctrmom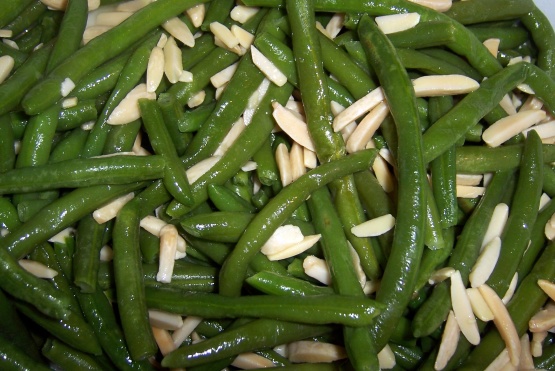 An elegant side dish that goes together in minutes. Mom always made this at Thanksgiving. It's nice with a big meal when the oven and stove are already being used.

These beans and nuts were terrific. I was skeptical that the nuts would turn golden but they did. The butter and frozen green beans mixed with the slivers made a super side dish. Easy to make and looks like you put in more effort than you actually do. The presentation is nice. Even the kids try the nutty flavor. I am changing my bias against microwaving with this and other recent dishes. Made for My 3 Chefs Event Oct. 2013. Enjoy! ChefDLH
Place almonds and butter in a 1-quart casserole.
Microwave uncovered on full power, stirring every minute, until golden, 2 to 3 minutes.
Remove almonds from dish.
Place salt and beans into same dish.
Cover tightly and microwave on full power for 3 minutes; stir.
Cover and microwave until tender, 3 to 5 minutes longer.
Stir in almonds. YUM.