Bobbiann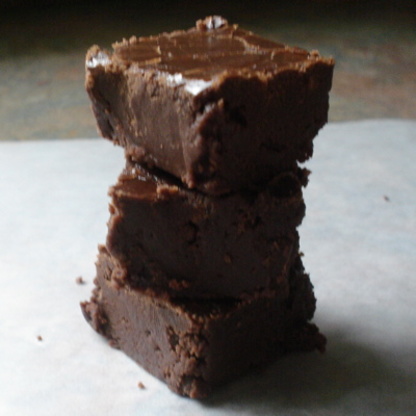 Not only is this the easiest fudge to make, it's also the best tasting...well, at least in my opinion. The problem with a lot of fudge recipes is the need for cooking on the stove and a candy thermometer. This is so easy you can have the kids help you make it. UPDATE: I reduced the amount of salt listed due to reviewer feed back and listed it as optional.

I really like no-fail fudge recipes like this this one. Especially when it turns out! This came together so fast I was shocked that the end result was so good! It was very chocolaty and really sweet - which means a little piece goes a long way! It was surprisingly creamy and set up perfectly. I left out the salt because I used salted butter. I lined my pan before pouring the fudge for easier removal. I will definitely make this again and even try experimenting with different flavours of extract - like orange or raspberry. Thanks for sharing!
Up all ingredients in a bowl with the stick of butter on top.
Heat in microwave until the butter is melted, about 2 minutes. Pour on waxed paper and chill for about 1/2 hour.