jenne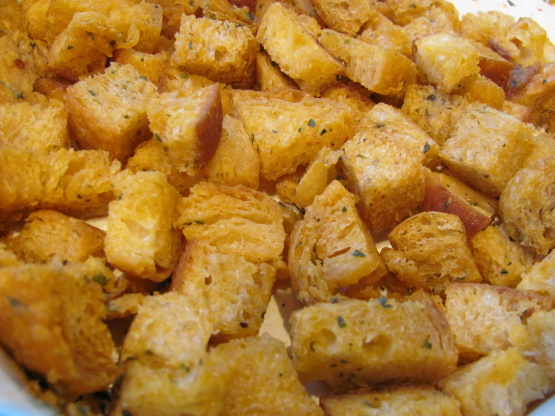 This was in a recent issue of the kids page in the Sunday paper. It's so easy that even a child can do it and yet it is very good! You can vary the seasonings to your taste.

I have been making & eating these all morning.. They are so fast and so easy and VERY VERY GOOD!!! I see where 1 reviewer said her their's didn't get crunchy.. I did everything according per directions and when I took them out mine were still a little "limp" BUT I let them sit for about 2 min. & they were ABSOLUTLY PERFECT you can't believe how fast they are and so GOOD I too used my pie plate and after about 4 batches of the original recipe here I started "playing" I now have onion flavored some I added Parm. cheese.. some I did per recipe but left out parsley and added some chives "crumbled" I do believe this will now become MY recipe for crouton making..BLESS YOU Oct 7th 06 had to let you know my little 11 yr.old great neice came over this a.m. and made 3 batches of these all by herself (she was so proud) then after eating a few handfuls we used them in Crispy Parmesan Chicken Strips once again WONDERFUL recipe..so easy and so GOOD UPDATE #2 Nov 21st 06 just saying thank you once again a good friend stopped by today and I made us some.. she eats a salad everyday and she is so happy to have found this recipe.. she is already home and making a batch.. I have made them too many times to count..again thank you
2

tablespoons butter
1⁄2 teaspoon parsley flakes
1⁄8 teaspoon paprika
1⁄8 teaspoon garlic salt
1⁄8 teaspoon pepper

2

slices bread, cut in 1/2 inch cubes (I used one whole hot dog bun)
Put butter in a medium baking dish (I used a glass pie plate).
In a microwave oven, cook butter on high for about 25 seconds or until melted.
Stir in the parsley, paprika, garlic salt and pepper.
Then add the bread.
Stir until bread cubes are coated.
Microwave uncovered for 3 minutes; sitrring the cubes once every minute until bread is golden and crisp.
Sprinkle over a tossed salad.