Derf2440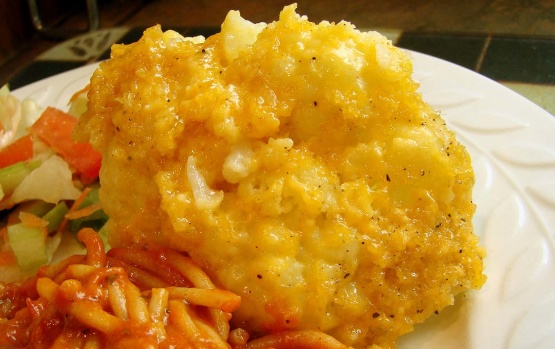 I got this easy to make and delicious cauliflower recipe from Cooks.com It has lots of nice taste but not overwhelming and found it very enjoyable and tasty. Hope you find it that way too.

Delicious cauliflower!! We loved it, I love the look of cauliflower cooked whole so I left it whole in the casserole. I mixed panco breadcrumbs with the salt and pepper, then added the grated cheddar and mixed all well then sprinkled it all over the whole cauliflower after microwaving for 8 minutes, then for another 1 minute, turned out perfect! thanks for posting, I will be making it again,
1⁄4 cup Italian breadcrumbs
1⁄4 cup cheese (grated)
1⁄4 teaspoon salt
Cut cauliflower into florets
Put in microwavable casserole bowl.
Cover and cook on high 8 to 10 minutes. Stir halfway through.
Remove from microwave.
Spray with Pam butter spray evenly
Sprinkle with breadcrumbs, grated cheese and salt
You may even want to sprinkle with some minced garlic.
Return bowl back to the microwave uncovered
Microwave for 1 - 2 minutes or until cheese begins to melt.