Microwave Caramel Popcorn
Redsie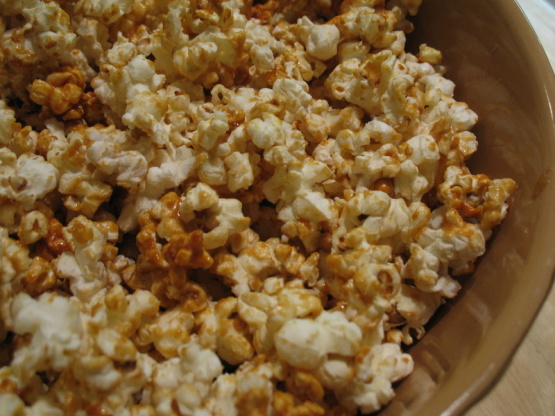 One of my students brought this to class to share with the kids for a party.The kids devoured it and I liked it so much I got it as a gift for Christmas! EDIT: Please make sure to watch this very closely as you may need to cut back the cooking time depending on the power of your microwave. Also- Please see Mamophet's review. I don't recommend reducing this recipe- If you absolutely must reduce it, please use accurate measurements in order to have edible popcorn. The ratio of popcorn to caramel needs to be maintained and the cooking time should be reduced as well.

Top Review by torrak
I did a batch for christmas gift. I put corn sirop instead of honey and i didn't use a brown paper but just put everything in a big bowl. They turn out amazing, all my family loved it. They said it tasted even better than the store's caramel popcorn.
Gotta do it again!
Pop popcorn and pour into a brown paper bag.
Put all ingredients except soda and popcorn into a bowl and microwave on high for 3 minutes.
Stir, and microwave 3 minutes more.
Stir, add soda, and stir again.
Pour over popcorn in paper bag and stir to coat evenly.
Fold top of bag, microwave 1 minute, stir well.
Microwave 1 minute, stir.
Microwave 30 seconds, stir.
Microwave 30 seconds, stir.
Pour onto foil to cool.