Microwave Buckaroo Bars (chocolate, Peanut Butter & Oatmeal)
MA HIKER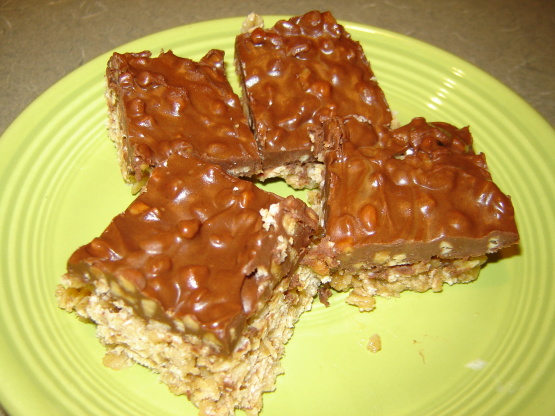 A quick, easy, very yummy recipe. Kids love 'em.

These are yummy! I also used light corn syrup, not knowing what white syrup is. And I made individual bites by using a mini muffin tin with liners. When I added the chocolate/pb to the top, I also added an m&m to each one. The oatmeal texture was not my DD's favorite, but DH said they're "good" and ate 4! - Just changed my rating from 4 stars to 5 - they are even tastier the next day after being in the fridge overnight. I can't stop eating them!
Mix first five ingredients and put in a 9x13 inch glass pan.
Microwave 3 1/2- 4 minutes on high, turning every minute or bake for 15 minutes at 350F in the oven.
Allow to cool.
Melt peanut butter and chocolate chips together in the microwave, and spread the mixture on top of the oatmeal.
Refrigerate.
Cut into bars.