Redsie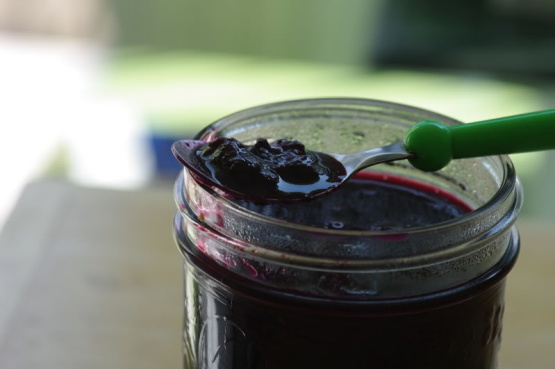 I made this jam yesterday...I found that a quart of blueberries was 3 1/2 cups so I added some rasberries. Otherwise stuck to the recipe and let me tell you it was fantastic. I live alone and this made just the right amount for a jam jar...so easy that I wont have to buy the high priced spreads anymore..now Im dying to try adding different spices or perhaps some wine or brandy...anyway, this is sooo perfect as is I am most happy!!
Puree blueberries in blender or food processor.
Place in a 12-cup microwave-safe dish with sugar and cinnamon.
Stir.
Microwave on High, uncovered, for 8-10 minutes -- until mixture comes to a full roiling boil and boils for one full minute.
Stir well once during cooking.
Remove from microwave and pour into sterilized jars.
Cover and refrigerate.
Keeps well for at least two weeks.