Boomette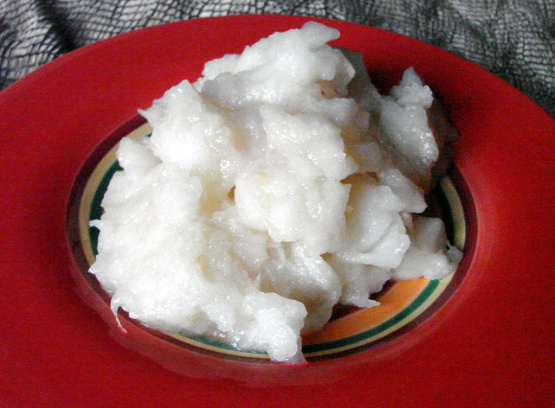 I love this recipe, because it tastes fantastic and doesn't involve slaving over a hot stove! I found it in the "Apple Lovers' Cookbook" I picked up at a local farm market. I like to add about 1/2 tsp of cinnamon, too!

This indeed is a simple way to prepare applesauce - I'm so impressed with this recipe. I could kiss you for posting this, Kree! No more waiting for an age near the stovetop to allow the apples to cook until softened. However, inspite of cooking this on HIGH for 10 minutes, this still wasn't in sauce form. So, I cooked it on HIGH for another 8 minutes. After that, it was much better. But, still it wasn't really apple'sauce'. So, I allowed it to cool and then processed it in my mixer with a little water to give it the consistency of sauce until it was saucey:) This made 2.5 cups of applesauce for me. Very nice recipe - I will use this from now on. Thanks, Kree!
In a 2-quart casserole, combine apples and water.
Cover and microwave 8-10 minutes on HIGH until apples are soft, stirring once during cooking.
Mash apples to desired consistency.
Stir in sugar.
Cover and allow to stand a few minutes.