Microwave Apple Crisp a La California
I haven't made this yet, but it sounds very good, fast and easy! Found in an old microwave cookbook.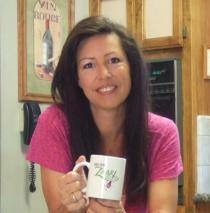 8) I have to give this 5 stars... just for ease alone. I tagged this recipe out of curiousity as there were no previous reviewers, no photos and the chef herself hadn't even made this.... that being said, I cannot believe how terrific this turned out. I was really skeptical when putting it together only because it seemed like too much cake mix a top the amount of pie filling. Then, the butter.... I thought how in the world is this going to turn out. I put it in the microwave and walked away! In 9 minutes I had dessert. It came out browned even, like it had baked. Okay, but the test was when it was cut. After letting it set for 8 minutes I grabbed a spoon and dove in. It was like a crumb cake with apple pie on the bottom. I have to tell you, when it cooks, don't be surprised... but some of the apple filling comes to the top. I took a bite and now I can't wait to eat more. No need to add whip cream, this was sweet enough. This one goes into my *Favorites by Zaar* cookbook. It would be so easy to whip up when you have unexpected company or just fill like dessert and don't have a lot of time. YUMmers! Thanks Mami for sharing this one. (Made for Bevy Tag 10/08) ~V
1

(28 ounce) can apple pie filling

1

(16 ounce) package butter recipe cake mix
1⁄4 lb butter, cold, cut into small pieces

3

tablespoons brown sugar

3

tablespoons shredded coconut

2

tablespoons walnuts, finely chopped

1

teaspoon cinnamon
whipped cream, for serving
Pour apple pie filling into a deep casserole dish that will fit in you microwave. Sprinkle evenly with the cake mix. Cover completely with a layer of butter. Mix the brown sugar with the coconut, walnuts and cinnamon. Sprinkle this mix over the layer of butter. Cook on HIGH for 8-9 minutes. Serve with whipped cream, if desired.