Micro-Steamed Hoisin Fish and Vegetables
Hey Jude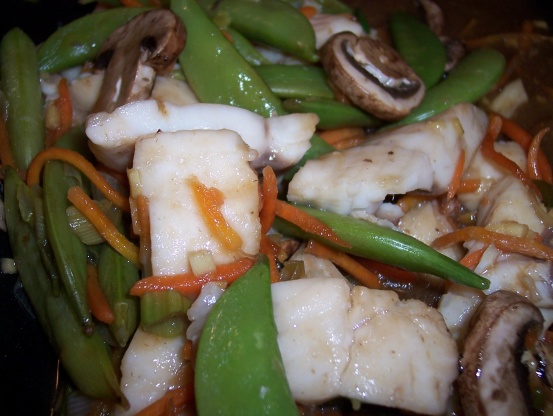 As some of you know, I'm a huge proponent of quick and easy after work dinners. Well, I hit the jackpot with this recipe that I found last week in the Chicago Sun-Times. My poor microwave is mostly used to reheat leftovers and pop my daughter's popcorn BUT, THIS recipe turned my microwave into a star! SIX minutes and our dinner was ready and it was absolutely delicious! OK, a little bit of prep but not much if you use some pre-prepared veggies, as I did. Put a pot of rice on to cook, get the fish ready and when the rice is done, cook the fish, it's SO simple! Did I mention it's healthy too? Ok, it's healthy too! The recipe calls for fish to be 1 1/2 inches thick but I used tilapia which, at it's thickest point, was about 3/4 inches thick and I used the same cook time....the fish was perfect and delicious. The prep time accounts for using the pre-prepared veggies, as I did.

Cut the fish into 1-inch wide strips and place in a 2-qt. microwave-safe dish. Scatter the sugar snap peas, mushrooms, ginger, carrots and scallions evenly over the fish. It's going to look really pretty so take a moment to admire it.
Combine the hoisin sauce, soy sauce and vinegar in a small bowl and then slowly drizzle over the fish and vegetables. Cover the dish with plastic wrap, folding back one corner to allow the steam to escape.
Place the dish in the microwave and cook on high power until the fish is cooked through and the vegetables are crisp tender, 6 minutes. Stop every 2 minutes to gently stir and reposition the fish so that the outside pieces are moved to the inside. ***I didn't really believe that the fish and veggies would be cooked in 6 minutes but they WERE and they were perfect. I set the MWave for 2 minutes and just gently rearranged the fish each time (3 times).
Serve the fish and veggies with the cooked rice.