Mickey's Okinawa Taco Rice and Cheese TRC
nisea916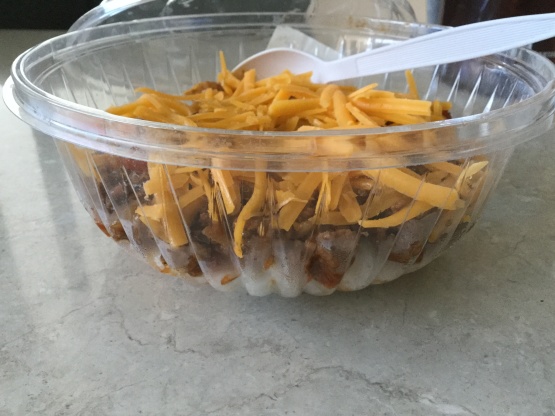 After much trial and error, I've finally got it.

We were at Camp Hansen in 1989-90 and have been making this for years now. I couldn't use the two types of seasonings because only one is available. I also used a sticky rice. I made this one night, and thought, I wonder if anyone else has tried this fine cuisine. Aaah, memories.
2

lbs 80% lean ground beef (80/20, the cheap kind in the tube is best)
1 1⁄2 ounces mccormick mild taco seasoning
1⁄4 cup old el paso original taco seasoning mix
1 1⁄2 teaspoons Accent seasoning (Mickey's secret ingredient. It will not taste the same without it)

2

cups white rice (uncooked)
5 1⁄2 cups water

1

lb shredded mild cheddar cheese (large shreds, find the one that looks like government cheese)
Put the white rice and four cups of water in the rice cooker, add 1 teaspoon of Accent flavor enhancer, stir and cook.
Brown the ground chuck, drain most but not all the grease.
Mix the two types of taco seasoning in a bowl with 1 1/2 cups of water, add 1/2 teaspoon of accent flavor enhancer, stir and pour over ground beef. Simmer for five minutes.
Place steamed rice in large casserole pan, spread taco meat over rice, top with cheese.
Serve on paper plate with plastic spoon for full effect. Top with favorite hot sauce.