catercow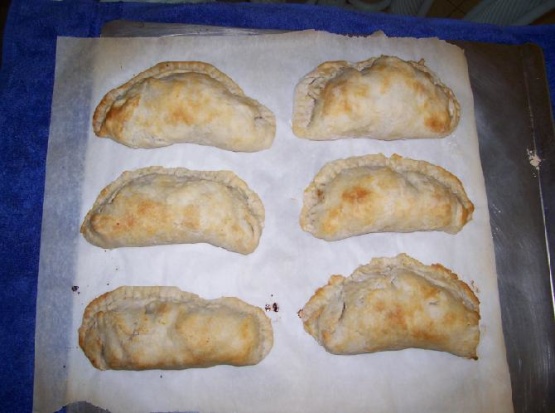 This is a traditional Northern family recipe of mine. Fantastic and very flexible as you can pick and choose what you put in your own pasties to fit your tastes. Plus any leftover filling can be used to make a meat pie or be served with rice as leftovers.

This is far from the recipe that I grew up with in Ishpeming Michigan.. We used beef ,onion,carrot,potato,and sometimes rutabagas ..also used onoin salt, salt sand pepper and dotted each with a pat of butter. Wwe make pasties twice a year at our church and this is also how they are made. Thank yo for listening. search out recipes .com for the traditional cornish pasties.. Delicious
Mix cubes of turkey, potatoes, carrot, and onion in a large bowl. Add salt pepper and seasonings.
Mix flour, shortening and salt. Gradually mix in 1/3 cup of water using a fork. Pat into a ball.
Divide into smaller balls and roll dough out to size of 8 inch pie tin.
Place 1 cup mixed filling on half of a rolled crust, fold over, and seal edges. Press edges down with fork.
Brush with milk and bake at 475 degrees for 20 minutes.
Reduce heat to 375 degrees for an additional 20 minutes.
Serve with ketchup or steak sauce.