Michael's Spinach Artichoke Dip
marisk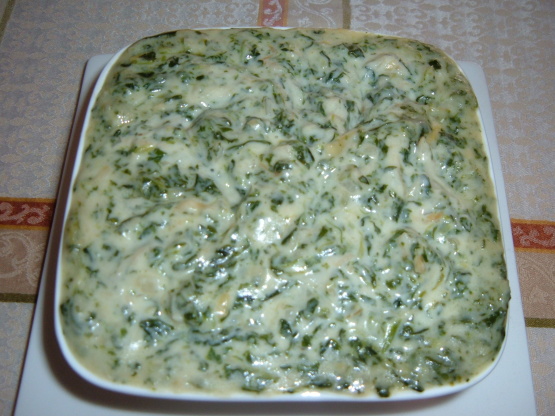 This is our twist on the CPK recipe. It is a lot of work but well worth it. The original recipe called for 3/4 c Parmesan cheese, 12 ounces of the spinach, and 3/4 t tobasco. I increased the spinach and P.Cheese to make it thicker and more gooey. The tobasco because I couldn't taste it at 3/4...might need even more. I preferred it better the next day...cold, but that's my preference. The prep time was a bit long but then I was doing everything by hand. I forgot to measure how much it made but I think it was around five cups. Serve with blue and white corn tortilla chips.
1⁄4 cup olive oil

2

tablespoons unsalted butter
3⁄4 cup maui onion, diced
1 1⁄2 tablespoons garlic, minced
1⁄2 cup all-purpose flour
1 1⁄2 cups low sodium chicken broth (preferable homemade)
1 1⁄2 cups heavy cream or 1 1⁄2 cups whipping cream

1

cup parmigiano-reggiano cheese, freshly grated

1 -2

tablespoon chicken bouillon cubes or 1 -2 tablespoon vegetable bouillon cube, crumbled
1 1⁄2 tablespoons fresh lemon juice

1

teaspoon sugar
3⁄4 cup sour cream

20

ounces frozen spinach, defrosted, drained, wrung out by hand, and coarsely chopped

1

(6 ounce) can artichoke bottoms, drained and cut into 1/8-inch slices

1

cup monterey jack cheese, finely shredded

1

teaspoon Tabasco sauce
In a large saucepan, warm the olive oil and butter together over medium heat. When the butter has melted, add the onion and cook, stirring occasionally, until wilted, 3 to 4 minutes. Stir in the garlic and cook 2 to 3 minutes longer, stirring frequently and stopping before the onion and garlic brown.
Sprinkle the flour and continue cooking, stirring continuously, until the mixture turns a golden-blond color, 10 to 15 minutes. Then, whisking continuously, slowly pour in the stock until it is smoothly incorporated. When the mixture begins to simmer, stir in the cream. Let it return to the simmer. Remove from the heat, add the Parmesan, chicken base or bouillon cubes, lemon juice, and sugar, and stir until thoroughly blended.
Add the sour cream, spinach, artichoke bottoms, Monterey Jack cheese and Tabasco sauce, and stir until the ingredients are thoroughly combined and the cheese has melted. Transfer to a warmed serving bowl and serve immediately, accompanied by blue and white corn tortilla chips.