gailanng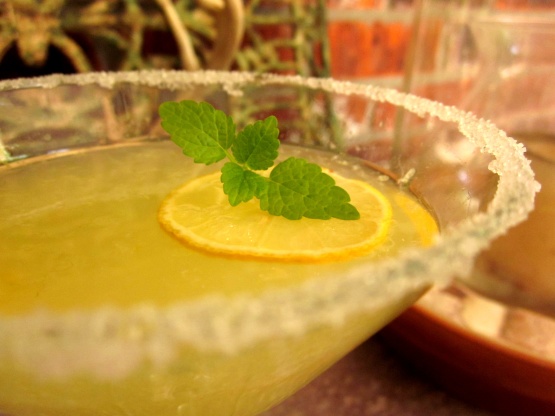 This is adopted from Martha Stewart Living. Easy to make, refreshing to drink!
Simple Syrup

1

ounce water

1

ounce sugar (measure in a cocktail jigger)

1

meyer lemon, zest of

Martini

2

meyer lemons, juice of

3

ounces vodka
sugar, to rim the martini glass
To make the simple syrup, combine 1 oz. water, 1 oz. sugar (measure in a cocktail jigger) and the lemon zest in a small saucepan over low heat. Stir until sugar dissolves.
In a cocktail shaker, combine a handful of ice, the lemon juice, vodka and simple syrup. Shake vigorously and strain into 2 chilled martini glasses rimmed with sugar. Drop two thinly sliced lemon disks into each glass.