Meyer Lemon and Fresh Cranberry Muffins
WiGal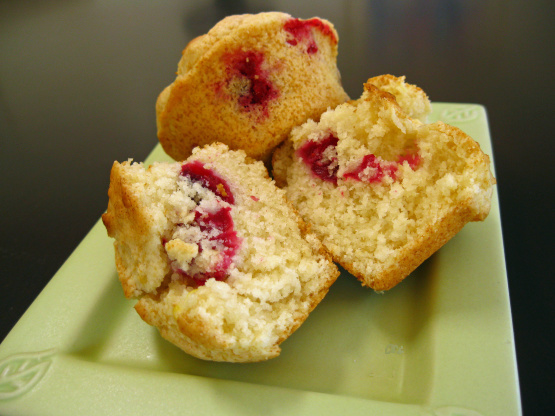 In a large plastic bag in the reduced produce section of my grocery store I scored 10 lemons for a dollar. There were three Meyer lemons in the mix and I knew that I wanted to do something with them. This recipe only uses 1 lemon, Meyers are best but you could use a regular lemon too. This recipe is from the everyone likes sandwiches blog.
These muffins have a very good taste. But I found that the ingredients should be mixed differently. Dry ingredients all together and liquid all together. Anyway, I guess it worked since my muffins came out great. 20 minutes at 400F was enough. I used frozen cranberries. Thanks mary. Made for 123 hit wonders
Preheat over to 400 degrees. Oil a muffin tin or used paper liners. Mix together the first five ingredients in a large bowl.
In a smaller bowl, combine the remaining ingredients until the cranberries are coated in the flour mixture.
Add the dry ingredients into the wet and combine until just blended. Drop by spoonful into muffin tim until each tin is 3/4 full of batter. Bake for 20-25 minutes.