Sara 76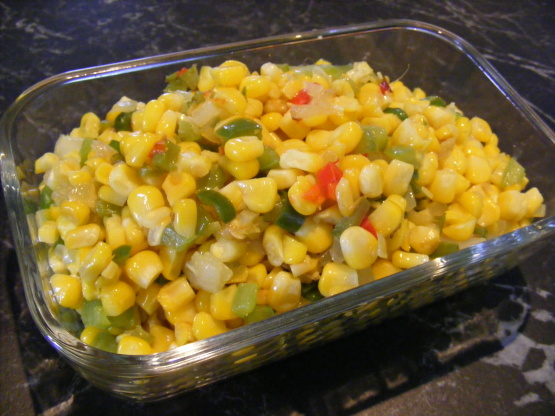 This is a nice way to use up corn from your freezer, I had 6 frozen ears from last years crop that I used for this dish. I used hot banana peppers, as i had then in my garden but any kind of hot pepper would do. You could also add some heavy cream at the end but i chose not to this time.Best cooked in a cast iron skillet.

This was fantastic! I had to use 1 red chilli, and 1 green chilli, and the heat was perfect! I forgot to add the garlic..I remembered at the dinner table. lol But it didn't matter, it was still perfect! I didn't bother with salt and pepper, as i thought the vegetable flavours were absolutely amazing cooked this way! I only made this, as another recipe I wanted to try, called for a can of Mexicorn. We can't get that here, so I made his as a sub, and we actually ate it on it's own as a side dish instead of putting it in the other recipe! This is a keeper, my new favourite way of eating fresh corn! Thankyou so much for posting.
Melt butter in skillet.
Saute onion, bell pepper, banana peppers and garlic until soft.
Add corn to skillet and cook over medium heat for 10 mins, scraping up any brown caramelised corn as it cooks.
season with salt and pepper.