Prep 30 mins
Cook 35 mins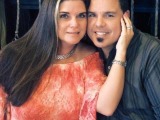 From the cookbook A Little Taste of Texas. So good!
Directions
Saute onion and bell pepper in butter or margarine.
Remove from heat and combine with remaining ingredients except paprika.
Toss lightly to mix and pour into a greased casserole dish.
Bake at 350 degrees for 30 to 35 minutes.
Garnish with paprika.
Most Helpful
This was a nice change from the tomato based rices usually served with Mexican food. Simple to put together and easily prepared ahead of time. Can't get canned chilli's here so added some taco seasoning for a little kick instead. Thanks, one that I will be making again for sure!

This rice was really good. We used fat free cottage cheese, fat free sour cream and low fat cheese. We also omitted the bell pepper. Still Fab!

Delicious and a very nice change from the usual rice accompaniments to Mexican entrees. For me, in fact, with the amount of cheese, it is a perfect small meal all by itself (and vegetarian, at that). It is a delightful combination of rich but not heavy. ...And it is so easy to make! I used half a red bell pepper I had in the frig and used butter. Presumably one could make it low(er) fat using low-fat dairy products.