Mexican Zucchini and Corn Burrito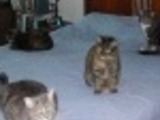 A most refreshing low-cal burrito. BF found this on an Australian website, and he changed it a bit and stuffed it into a tortilla. Not a burrito you want to eat with your hands, but really, really good. We used the low-fat substitutions. The filling alone makes a terrific side dish.
Directions
Heat oil in a 10-inch skillet over medium heat. Cook onion in oil, stirring occasionally, until tender. Stir in zucchini. Cook 1 minute stirring occasionally.
Stir in remaining ingredients. Heat to boiling; reduce heat, cover and simmer about 15 minutes or until zucchini is tender.
Divide evenly among tortillas. Top with cheddar, salsa and yogurt. Wrap and serve immediately with hot sauce on the side.