sapowell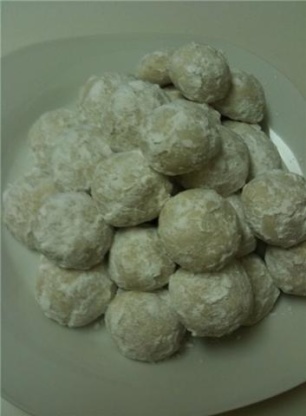 The holidays wouldn't be the same without these little "snowball cookies". Very simple to make, and popular in the cookie tins.

Perfect! My fiance makes these cookies every year but forgot to bring his recipe with him to my house. He thought this one looked like his recipe so he used it last night. Perfectly wonderful! Thank you!
Cooking tip: For packing a variety of cookies in tins, place these in muffins papers to keep them from getting powdered sugar over different types of cookies.
Preheat oven to 325 degrees F.
Mix together 1/2 cup powdered sugar with the butter and vanilla and beat till fluffy.
Mix flour with the salt, then add flour 1/2 cup at a time, then add the almonds, stirring until a nice dough forms.
Make 1-inch balls of the dough and place on an ungreased cookie sheet about 1-inch apart.
Bake in the preheated oven about 15-18 minutes or until set (don't let them brown).
Remove from cookie sheets, cool 1 minute, then roll in some powdered sugar.
Allow to cool 10-15 minutes (sugar will get damp) and reroll in the sugar.