Mexican Vegetable Casserole
loof751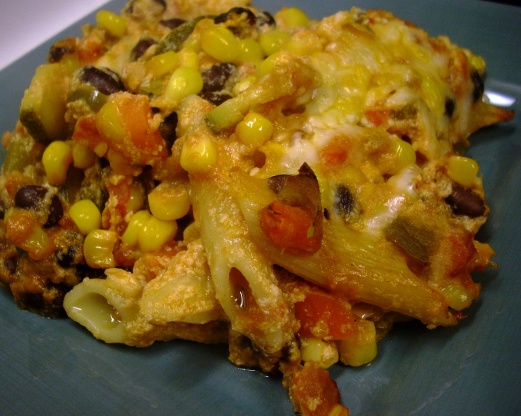 Green, Gooey, Good. So many veggies, you'll have your daily servings done in one hit! Try adding more bell peppers in different colors for a nice presentation.

This recipe makes for a good starting point, but it's fairly bland as is. Could really use either additional Italian spices, or some Mexican flavors. On the up side, it's a nice hearty veggie dish, and it isn't difficult to prepare. I was worried it was going to look unappetizing as I was pouring it into the casserole dish, but after baking and cooling it firmed up nicely, and the cheese I sprinkled on top gave it a much more attractive look.
4

ounces ziti pasta, uncooked
nonstick cooking spray

2

medium onions, chopped

2

garlic cloves, minced

2

medium carrots, finely chopped

1

green pepper, chopped

1

medium zucchini, chopped

1

(16 ounce) can diced tomatoes, undrained

1

(8 ounce) can tomato sauce

1

teaspoon oregano

1

(16 ounce) can black beans, rinsed and drained

1

(10 ounce) package frozen corn, thawed

2

tablespoons green chilies, chopped

8

ounces fat-free ricotta cheese

4

ounces monterey jack cheese, shredded
Cook ziti according to package directions without salt; drain well.
Preheat oven to 375°F.
Coat a Dutch oven or large pot with cooking spray. Add onions, garlic, carrots, green pepper, and zucchini. Saute over medium heat for 10 minutes, stirring often.
Stir in tomatoes, tomato sauce, and oregano. Bring to a boil; reduce heat to low, simmering 15 minutes.
Stir in beans, corn, and chilies. Cook for 5 minutes.
Remove from heat; add pasta and cheeses, tossing gently.
Coat 9-inch square baking dish with cooking spray. Spoon mixture into dish.
Bake for 30 minutes or until heated through. Let stand 5 minutes before serving.